wash car company
The UAE is considered a desert country. Its weather is very hot and sometimes dusty and dusty. This makes cars always in a messy state. With children inside the car, it is very likely that they will pour out perfume and leftovers. Which causes the accumulation of bacteria and the emergence of unpleasant odors. This may affect our health and the health of our children. wash car
wash car services.
Top H offers a car wash service. Realizing the suffering of customers waiting at car washing stations. Most of us waste more than two or three hours of time. However the wash car is not a good cleaning. But at Top H we have deep car wash services. Where the car is washed from the inside and outside and the tires.
Deep wash car.
A deep wash is completely different from regular cleaning. Where we in deep cleaning clean all over the cars. Inside, outside and tyres. From the inside, we clean the chairs, remove all stains from the chairs and leftover food, and remove unpleasant odors. And cleaning the car roof, drums and pedals. Where it is cleaned by machines and steam with polishing. Then we clean the car from the outside using the machines and polishing machine. washing car.
With the car box washing, removing all dust, then cleaning and polishing. Then open the motor and remove the dust and deep cleaning of the motor. Finally, we clean the tires, wash them well, and then polish them. Then we dry the car from the inside and the outside and the tires. And only one hour later you can use the car. and go where you want. washing car.
regular wash car.
It is known to everyone that car washing is a routine process. that all vehicle owners carry out from time to time through car wash stations or personally in the car park, but what is not known is that car washing in Dubai is not so simple, as Dubai car clean rules There are many laws that reflect positively on the aesthetic of the emirate in various respects, what are the laws that govern this process and how you can get the best Dubai car washing perfectly, this is what we will learn about in today's article.
It is forbidden to drive or park a dirty car.
The Dubai government has imposed strict rules regarding the cleanliness of vehicles. Dirty cars give a bad image of the city. Driving or parking a dirty car in Dubai may result in a fine of around AED 500. The owner is initially warned and given a time limit to wash the car. If the warning is ignored and the car remains in its dirty condition, the owner will face a fine or possibly impound the car completely. washing car.
On-demand mobile car washing
Realizing that the process of cleaning and washing the car requires a lot of effort. You may not find enough time to do it or wait at the car clean stations. The TopH company offers you a mobile car wash service on demand to save you this time and effort. on-demand mobile car wash service. In Dubai, Sharjah and Ajman, it may be the perfect and suitable solution for you. mobile car washing service.
Whether you are at your workplace or at home, 
all you have to do is contact us. within an hour, your car will be completely. comprehensively cleaned inside and outside. Through a mobile car washing on demand,  removing oils, fats and dust from surfaces. removing unpleasant odors. bacteria, in addition to washing the tires is good in the rack to give them a shine.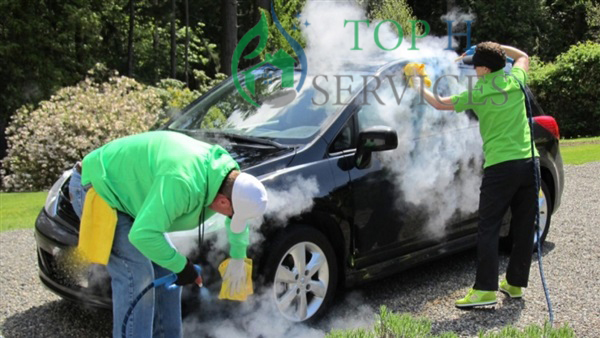 Home car washing service
The most characteristic feature of the lifestyle in the United Arab Emirates is that it keeps pace with the development of all kinds of services that individuals may need, and since most of the country's residents are of the working class, individuals are always looking for high-speed services to save effort and time. This development has touched the car cleaning service. service is no longer provided at points located in petrol stations, but companies are now available that provid services wherever you are! So if you live in Dubai, Sharjah or Ajman,are looking for companies that provide mobile car wash, here is this article that highlights the best on demand
What distinguishes us
Now, in less than an hour, the car will be completely cleaned, anti-bacterial cleaning, through a mobile cleaning car by suction, cleaning the carpets, carpets and interior surfaces of the car. With windows, it will give your car a long-term cleanliness and completely eliminate bacteria. A mobile cleaning car company offers a fast and distinguished service, and it is a mobile car wash. And a mobile cleaning car company is one of the pioneers in this field due to our experience. Where we provide customers with all washing, polishing and painting services.
Car wash in Dubai.

Car washing and cleaning just got easier. There is no bother waiting at the car wash stations. Because TopH has plenty of it, you have to use a mobile car wash service within the United Arab Emirates. But it is not an ordinary service. It is a very special service and different from any other company. Because we care about all the details and because you deserve we offer you the best offers.