Mobile car wash.
Owning a car is a good thing, but you must know that the car needs special attention to protect it from damage and pollution as well. Especially if you live in the United Arab Emirates, specifically in Dubai. This is when the laws require you to take care of the car and always keep it clean. That is why you should always take into account your cars and make sure they are clean. This requires you to wait for a long time inside car wash stations, which wastes your time or to wash it yourself, and sometimes it takes time and effort from you. Therefore, the best solution for TopH . She travels all over the Emirates in a car equipped with the latest devices and equipment for a car wash facility. Whether it is a deep cleaning or a regular cleaning or polishing.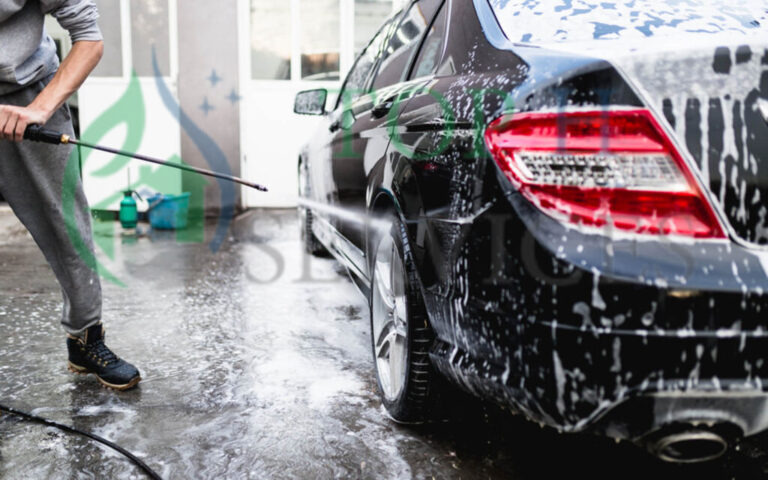 Car wash company.
Dubai is a desert city that experiences some of the highest temperatures in the region, and Dubai is also home to the largest number of vehicles registered within the city. According to a 2015 survey, there were enough cars in the city that every two residents could have one. But due to the harsh climate and structural ownership laws, owning a car in Dubai requires special care to ensure optimum performance of the car.
Whatever type of car you have
They always need constant maintenance and care. And here we are not talking about the maintenance of the engine or the internal parts only, but the external structure of the car. And the interior also needs care always to maintain its quality for as long as possible. Where periodic washing and cleaning keeps the car from rusting. And maintains the car paint, which may lead to fading in color or damage to the exterior structure. Mobile cleaning car.
Realizing that the process of cleaning and washing cars requires a lot of effort. And you may not find enough time to do it or wait at the car wash stations. The TopH company offers you a mobile car wash service to save you this time and effort. A mobile car wash service in Dubai, Sharjah and Ajman may be the perfect and suitable solution for you.
Whether you are at your workplace or at home, all you have to do is contact us. And within an hour, your car will be completely and comprehensively cleaned inside and outside. Through a mobile cleaning car, removing oils, fats and dust from surfaces. And removing unpleasant odors and bacteria, in addition to washing the tires is good in the rack to give them shine.
The importance of car wash in Dubai?
Cars are one of the best means of transportation needed by the residents of the United Arab Emirates, especially those who are highly mobile. Individuals pay special attention to them and follow the principles of maintaining the car, perhaps the most important of which is periodic cleaning. Experts and specialists advise cleaning the car at least once every two weeks, as washing it helps Regularly to keep it in the best condition and for a longer period, as well as protect its paint from damage and prevent the formation of rust and the accumulation of dust, gravel and various types of impurities that may cause fading in color or damage to the structure itself, 
which may prompt you to frequent car maintenance workshops in Dubai often. Regular car washing may be a bit tiring, or you may not find enough time to do it yourself, and here comes the role of a home car wash service that ensures cleaning the car from the outside and inside with ease and speed, and we will learn in this article about the most prominent companies and applications specialized in providing a car wash service Cars in front of the house in the Emirates.
Top H company offers a car wash service at home
Instead of visiting the car wash stations that are scattered in all the petrol stations in Dubai or other emirates, you can get home car wash services provided by a company specialized in that in the Emirates, whether you are at your workplace or at home, contact TopH to get Miscellaneous services. Such as a deep cleaning car, and here the most difficult places inside the car are reached and cleaned with the latest devices, steam, suction and polishing. And quick cleaning service with the latest equipment.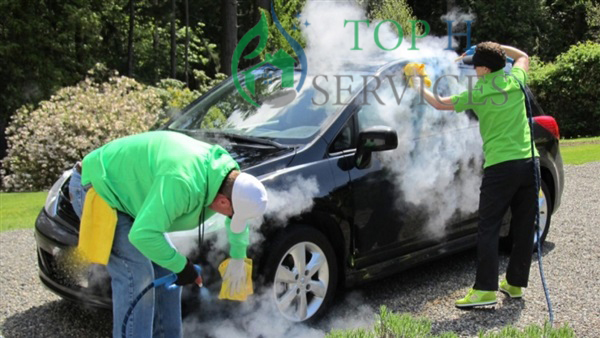 Top H is one of the leading mobile car wash companies.
The services provided to customers vary to include external and internal car cleaning and polishing, in addition to glass polishing, air conditioning vents cleaning, car perfumery, etc., in addition to a home car wash service in the United Arab Emirates, this company also provides a washing service for scooters, bikes and boats, instead of car sterilization services at home. It is worth noting that there are several car wash packages available at Top H, each with its own advantages. It varies according to the car's need for cleaning and the type of cleaning, as there are cars that only need interior cleaning. And another is external only, and another is a simple garage cleaning, but you need a deep car wash from the inside, and from here we have put a price list that includes each type and according to the needs of the car, the price comes.
Why are we..
Now, in less than an hour, the car will be completely cleaned, anti-bacterial cleaning by means of suction and cleaning of carpets, carpets and interior surfaces of the car. With windows, it will give your car a long-term cleanliness and completely eliminate bacteria. The company provides a quick and distinctive service, and it is a mobile car wash. The mobile car wash company is one of the pioneers in this field due to our experience. Where we provide customers with all washing, polishing and painting services. You are at your place with a fully developed mobile car washing service.
Top H's team is distinguished for providing mobile car wash services in Dubai, Sharjah and Ajman. With perfect craftsmanship and using high-quality cleaning tools, TopH offers packages for each of them with features that vary in prices according to the number of services provided, and car cleaning services can also be obtained. Within monthly contracts, reservations can be made via WhatsApp.
Why Top H Car Wash?
The Top H Car application is one of the best car wash applications in the UAE, where car care technology is used on demand through the smart application that can be downloaded from electronic stores, and car washing services, oil change and diagnosis are provided on time with all professionalism. You can benefit from the services of the My Car application at home or at work, and do not worry about water, energy or cleaning tools needed to complete the car wash process at home, all of them are offered at the best prices.
cleaning car services
With 39 locations across Dubai and the Northern Emirates, TopH offers a selection of
high-tech manual and automatic car wash and valeting services tailored to your vehicle.
From our fast and convenient automated drive-thru wash, to a full exterior and interior valet clean, our affordable and time-saving choice of services ensures that your car always looks its best, inside and out.
Our ProWash services
Auto Wash
Our automatic car clean bays will give your vehicle a thorough clean in under three minutes. Choose from Auto Wash, a basic clean using automated brushes and jets. Or try our Tri-Foam Wash – a family favourite, it uses three colours and three scents for a fun and colourful car washimg experience. If you prefer a brush-free car wash, try our AutoWash 'Touchless' concept, which uses water pressure to clean your vehicle, and is tough on dirt but gentle on your paintwork.
Manual Wash
Our fast and professional car washing experts will clean your vehicle's exterior while you wait. This manual service will fully clean your car's paintwork, alloy wheels, tyres, windows and mirrors, removing sand, dust and dirt and leaving your vehicle gleaming with a professional finish.
Xtreme Wash
For the deepest clean, try our Xtreme Wash. Our highly-trained professionals will manually clean your car's complete exterior and engine to ensure it looks as good as new. This includes a full clean of your car's windows and mirrors, alloy wheels, tyres and paintwork, using a deodorizing and sterilizing treatment to remove all traces of dirt and grime. Our Xtreme Wash also focuses on your car engine, ensuring it is protected against rust and clogged dirt, improving performance and increasing resale value.
Waterless car wash in Dubai, at your doorstep.
TopH offers a waterless doorstep car washing at the highest level of convenience, we come wherever you are. By booking a car washing service with the TopH app all the problems we mentioned above are a thing of the past. We clean your car while you are out shopping, watching a movie or relaxing at home. Our service is also waterless, which means we don't use a single drop of water thanks to our advanced cleaning products. We use eco-friendly award-winning cleaning, polishing, and protecting agents that equal or surpass their chemical-based competitors. By choosing our mobile car washing, you are also doing the environment a big favor. We realize water is becoming increasingly more valuable so wasting it on our cars is something we as a company want to avoid.
Where is our waterless doorstep car wash and spa available?
The TopH doorstep waterless car washing and spa are currently available in Dubai, UAE, and Trivandrum, Kerala, India. Due to the popularity of the service, we are currently planning an expansion of our waterless car cleaning to Abu Dhabi as well. Make sure to download the MySyara app to be the first to know once we are available in your city! Getting a car washing at home has never been easier and more affordable.
How do I get a car wash with Service My Car?
Booking a mobile car wash or car wash has never been easier. All you have to do is choose the package you desire on our website or the app, and provide all relevant details to complete your booking. You can then avail the best car wash in Dubai from your mobile, with Service My Car.