Best steam cleaning machine
Using a steam cleaner to clean the house has become. an ideal and modern way. It is used to clean all rooms. Did you know that you can clean everything in the house with a steam cleaner? There are many advantages to using steam in the cleaning process. Which will make you wonder why you should not use this method. In this article, we give you a summary of how to use steam to clean the house. steam cleaning machine.
There are many reasons why using a steam cleaner is one of the best methods for cleaning the house. We at TopH Cleaning rely on the latest steam-powered machines in the cleaning process
Steam cleaning is not harmful to the environment. Since it does not contain chemicals. Steam cleaning is based on heat. This helps to sanitize all surfaces in the home.
. The evaporation rate of steam makes it better than using water for cleaning. The use of a steam cleaning machine helps to clean cracks wonderfully. Using steam, you can eliminate the material. Difficult to get rid of, such as wax, gum and chewing gum. Precautions to be taken when using a steam cleaning machine in the cleaning process: There are some things to keep in mind when using steam to clean the house. This method will not always be the perfect solution for your cleaning needs.
Types of steam cleaning machines:

There are two main types of steam cleaning machines on the market:
Cold steam cleaning machine (portable or vertical). These machines operate without the water reaching a boiling point and consume more water.
Dry steam cleaning machine (portable or vertical). Which produces steam from boiling water, so it consumes less water, but it is very hot.
Here are the most famous international brands used by cleaning companies, led by Top H Cleaning.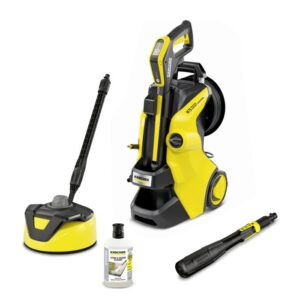 K5 PREMIUM SMART CONTROL HOME high pressure washer 145 bar

K 5 Premium Smart Control: Pressure Washer with Bluetooth, App Support, Boost Mode for Extra Power, G 180 Q Smart Control Spray Gun, 3-in-1 Multi Jet, Hose Reel. including. home kit.
Thanks to the built-in Bluetooth technology, the K 5 Premium Smart Control pressure washer can be connected to the Karcher Home & Garden app. This means that the user is optimally supported via the smartphone in many cleaning situations and in many cleaning tools – and can achieve more efficient cleaning results. The application provides many useful functions
also
Like the application advisor with useful tips and tricks, assembly instructions, maintenance and care instructions, as well as the Karcher Service portal. The device also has a boost mode for extra power, a G 180 Q Smart Control spray gun with LCD display and 3-in-1 Multi Jet Spray. The pressure settings are either set directly on the spray gun or transmitted to the spray gun from the app. On the LCD screen, you can check the pressure level that is set, whether the boost can be turned on or whether the device is still idle. The Home Kit with T Surface Cleaner includes 5 and 1 liter of 3-in-1 stone cleaner. Other equipment details include hose reel, Plug 'n' Clean cleaning system, aluminum telescopic handle, and corner position for easily accessible accessories.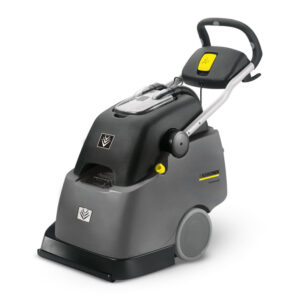 Carpet Cleaner BRC 45/45 C
Compact carpet cleaning machine for deep and medium cleaning of medium-sized areas from 350 to 1000 square metres. Forward and reverse cleaning direction with two opposite rotation roller brushes for a deep fiber clean.
With the BRC 45/45 C Ep, rapid intermediate cleaning of carpets using the I-Capsolation method and deep fiber carpet cleaning by spray method are also possible. Smudge removal, contamination. It reliably removes dirt and freshens the carpet. After intermediate cleaning, the carpet is already dry and can be walked on again after 20 minutes. Thanks to the compact design of the machine, it can also be used in public places. With up to 800 sq m of surface area for medium cleaning and up to 350 sq m of deep cleaning, the BRC 45/45 C Ep is ideal for larger areas.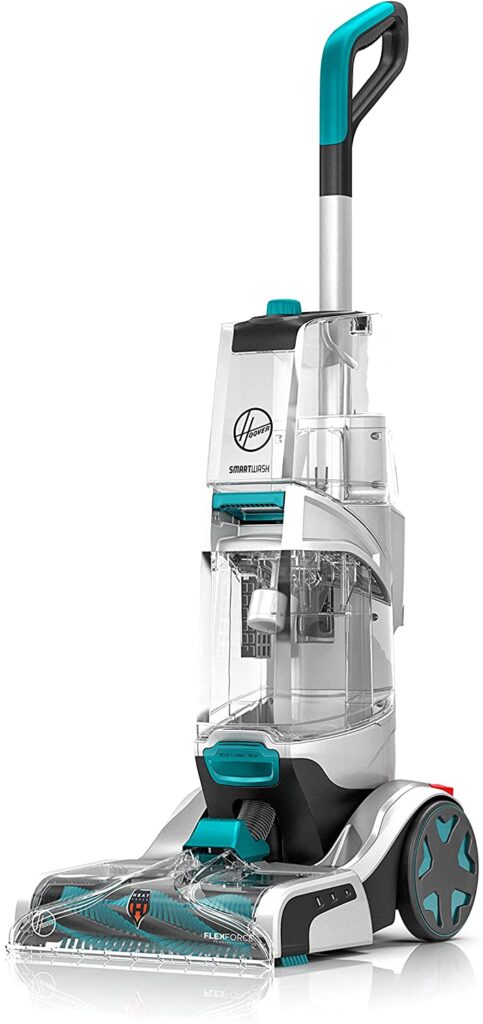 Hoover Smart Wash Automatic Carpet Cleaner, FH52000.
Auto cleaning technology: push forward to clean and pull back to dry
Automatic Clean Motion Sensing Design: Take the guesswork out while letting yours feel refreshed. One-step removable nozzle makes brushing easy
AUTO-MIX: Precisely mixes and dispenses solution for perfect cleaning
Auto Dry: Provides powerful extraction with HeatForce technology for faster drying
Powerful Flexforce Brushes: Gently remove deep dirt, debris and pet mess
What's cut out: 2-in-1 pet tool, sample bottle of cleaning solution, 12-foot hose, storage bag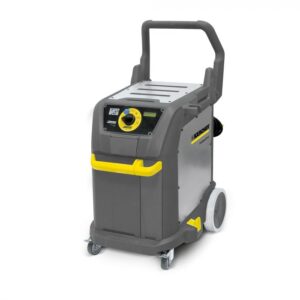 SGV 8/5 . Steam Cleaner Vacuum Cleaner
The easy-to-use SGV 8/5
vacuum cleaner combines the functions of a steam cleaner with a wet and dry vacuum cleaner. It removes excess water directly during steam cleaning. Equipped with additional cleaning programs and a built-in accessory compartment.
The SGV 8/5 Steam Vacuum Cleaner is left untouched. He's been in a role in a commercial chemical and vacuum cleaner role, including Clean, Sanitary, and Total Clean. The machine is also designed. The easy-to-operate selector switch and ergonomic hand-held handle for steam and suction functions make it easy to learn how to use. Playback can be controlled, running, running, running. The role of development is limited to environmental development. Storage space lies in the device, which protects it.
Here are some things to keep in mind when steam cleaning:

When using steam to clean surfaces, wipe surfaces with a cloth, because steam helps move dirt, but does not eliminate it.
Wear protective clothing and goggles when using steam to clean.
If the steam comes into contact with the skin, it may lead to painful burns.
It will be faster to use hands when handling some things, so think carefully before using a steam cleaner.
Remember to follow the instructions when using steam cleaning machines. Or the use of a company specialized in this field, such as TopH Cleaning, the first and leading in the UAE
Dry steam cleaners are the more popular of the two types, keeping in mind the differences between all the machines, the portable models are not as powerful as the vertical ones, plus you have to fill them with water from time to time, however people may buy them because of their lower prices, and also because they usually be wireless.
What things can you clean with steam?
Most surfaces in the home can be cleaned with steam, but care must always be taken to determine the type of material being cleaned, and to think about the result that will result from the use of water and heat in the cleaning process. Remember to always test a small part of the surface to see the result before cleaning it completely.
Upholstery, curtains and carpets:
Steam helps eliminate dust and stains on surfaces.
Use a dry steam cleaner to handle these surfaces and upholstery.
When cleaning carpets, use steam cleaning for stains only, and you can use a carpet cleaning machine for large areas.
Test a small area first to make sure the material does not change colour.
Move the machine continuously, to avoid submerging the surface in water.
Flooring, ceramic and metal:
Steam helps kill germs, mold and mildew.
It's a good idea to use steam to clean up deposits (but not for epoxy or clogs).
Steam should not be used to clean floors such as cement, stones, lime, marble, or wood.
A dry steam cleaner can be used to clean these places.
Move the machine constantly, and do not focus on a specific area for a long time.
Glass and mirrors:
Use steam to clean glass and mirrors, as it helps to avoid leaving streaks.
You can clean windows with a dry steam cleaner.
Use a washcloth to absorb deposits when cleaning surfaces.
The cleaning is from top to bottom in the form of lines.
kitchen appliances:
The steam cleaning machine can be used to sanitize litter boxes, trash cans and work surfaces.
And you can be human.
Other things:
Steam can be used for other things in the home than following the machine's instructions, and keeping them in mind. We breathe from product and soul.
Strainer and grills (strainer for air conditioners, utilities for stove and barbecue tools).
Lawn mowing machine.
Cars from the inside.
golf clubs.
Pet beds, cages, toilet boxes.
Baby tools, diaper change.
Things to avoid with steam cleaning:
Be careful not to use steam to clean the following things:
Delicate fabrics such as silk.